To think that Abel Tesfaye
has had a smooth ride, would be mostly right. It wasn't all that long ago that
he was a reasonably unique artist in Toronto, opposed to the spotlight, and
happy with his own definition of success. He emerged out of the ether, shadowed
by a mysterious ego – a formula that hasn't been altered little by little since
then.
Early
hit "Can't Feel My Face" marked a turning point, replacing explicit references
to his regular themes (drugs, sex) with PG-13 insinuations; making it a song
for everyone. Then comes guest verses with the likes of Ariana Grande ("Love Me
Harder"), Drake ("Crew Love"), Ed Sheeran ("Dark Times"), resulting in some of
the most likeable moments in his discography since the Trilogy.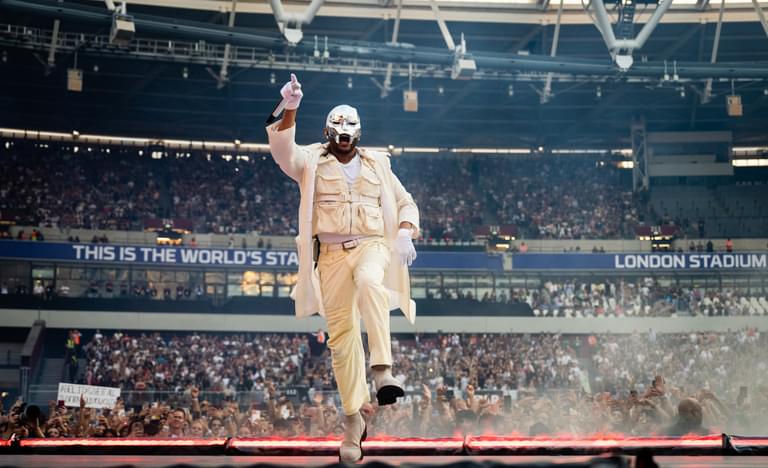 Samir Hussein

With this momentum behind
him, Tesfaye has maintained a shadowed edge amongst the pivot from cult Casanova
to pop star, and his devout following continues to show up for The Weeknd in
spades. His most recent album, Dawn
FM, reached number one in
over 10 counties while debuting at number two on the US Billboard chart, his
first project to do so since 2013's Kiss
FM. Not bad going for an
artist who doesn't give much away off-screen.
In
2023, The Weeknd packages himself as something bigger than his stardom. Awash
in scattered spotlights and masqueraded with a silver headpiece, on entrance he
is every inch an iconoclast. Though, his inability to embody an archetype
beyond treating it as a costume is tedious. From the opening notes of "Sacrifice", played tonight at London Stadium, Tesfaye is met with a rapture
of screams while he sets out the scalable approach to stage production and its
highly choreographed counterparts. Addressing the crowd for the first time, he
asks who has been a fan since the early days – acknowledging 2011, 2015, and
2020 as separate entities.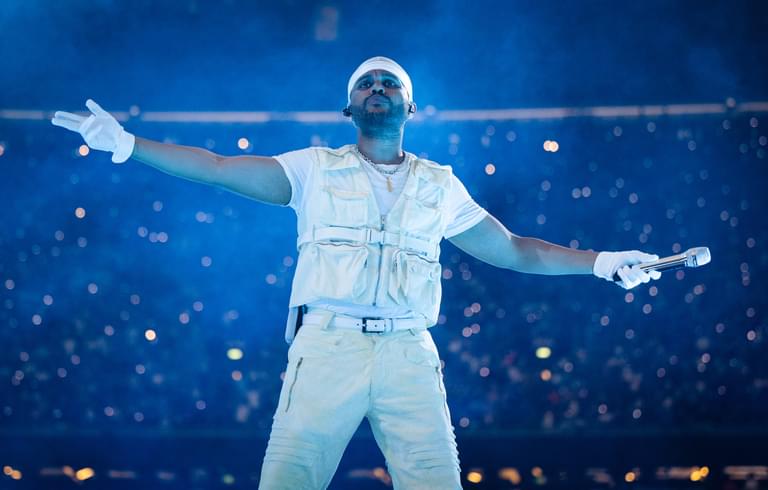 Samir Hussein

This detachment to character
has been lurking for a while. "I'm going through a cathartic path right now.
It's getting to a place and time where I'm getting ready to close the Weeknd
chapter," Tesfaye told
W Magazine. "I'll still make
music, maybe as Abel, maybe as The Weeknd. But I still want to kill The Weeknd.
And I will. Eventually. I'm definitely trying to shed that skin and be reborn."
While
the trailer for The Idol is projected onto huge LED screens pre-show,
his two characters are not alike, and present an identity crisis in becoming more.
Slipping into the guise of leader Tedros in the HBO drama, his character,
intended to be a dark, infamous figure ends up feeling self-serious; placing
itself on a pedestal but crumbling under the pressure. The
Weeknd won't be the last pop star who places himself before the camera in the
pursuit of glory, but given the power of the pop star, it begs the question, is
anything ever enough?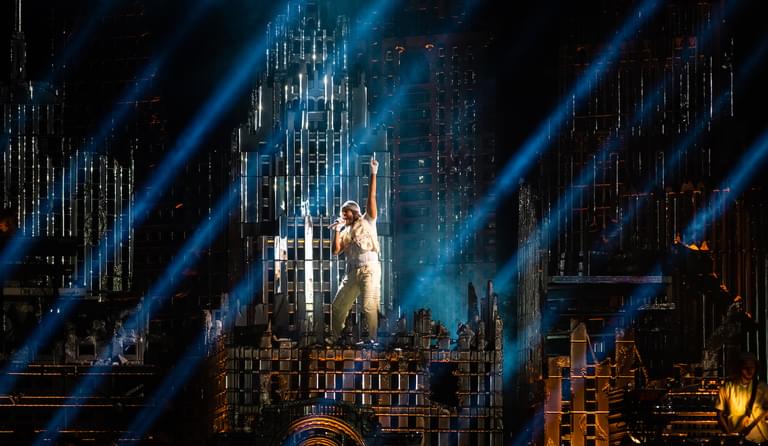 Samir Hussein

At a time when artists are
striving to immerse their fans, The Weeknd comes out on top. Each transition
into the next track is seamless as he flows between "Out of Time", "I Feel It
Coming" and "Die For You", but it's hard to understand the testament when its
star feels one step removed. There's no denying that Tesfaye is a force and
captivates with his smooth falsetto, but as The Weeknd, he is on a collision
course. This moment could be his last hurrah.
Setlist
Take My Breath
Sacrifice
How Do I Make You Love Me?
Can't Feel My Face
Lost in the Fire
Hurricane
The Hills
Kiss Land
Often
Crew Love
Starboy
House of Balloons
Heartless
Low Life
Reminder
Party Monster
Faith
After Hours
Out Of Time
I Feel It Coming
Die for You
Is There Someone Else?
I Was Never There
Wicked Games
Call Out My Name
The Knowing
High For This
The Morning
Save Your Tears
Less Than Zero
Blinding Lights
Tears in the Rain