Looking for the best things to do in North Adams, Massachusetts? We've got you covered! This charming downtown is famous for it's 'steeples and peaks' as it's beautiful town center skyline is full of beautiful churches and rows of 19th-century storefronts.
Located in North County of the Berkshires, you can explore the Berkshires from North Adams, not to mention there are plenty of attractions and things to do right in town that make for a great getaway.
If you're looking for what to do in North Adams, our guide covers the town along with a few nearby attractions. What's great though is that you can easily visit all the best things to do in the Berkshires from here as well.
For those of you unfamiliar with North Adams, the town is renowned for its vibrant arts scene, anchored by the Massachusetts Museum of Contemporary Art (MASS MoCA), one of the largest contemporary art museums in the country.
This former industrial town has undergone a cultural renaissance, with galleries, live music venues, and artistic installations scattered throughout the city. Visitors are drawn to its creative energy, scenic beauty in the Berkshire Mountains, and outdoor recreational opportunities like hiking and exploring the Appalachian Trail.
So without further ado, let's dive into all the amazing options for what to do in North Adams, Massachusetts!
Disclaimer: This post contains affiliate links.
What to do in North Adams
MASS MoCA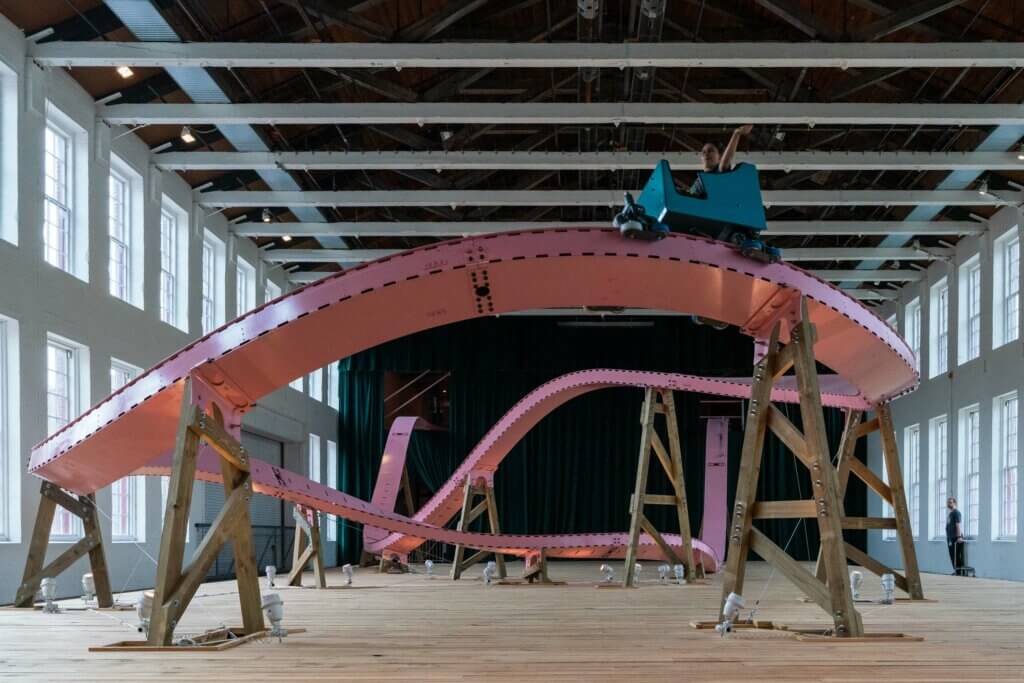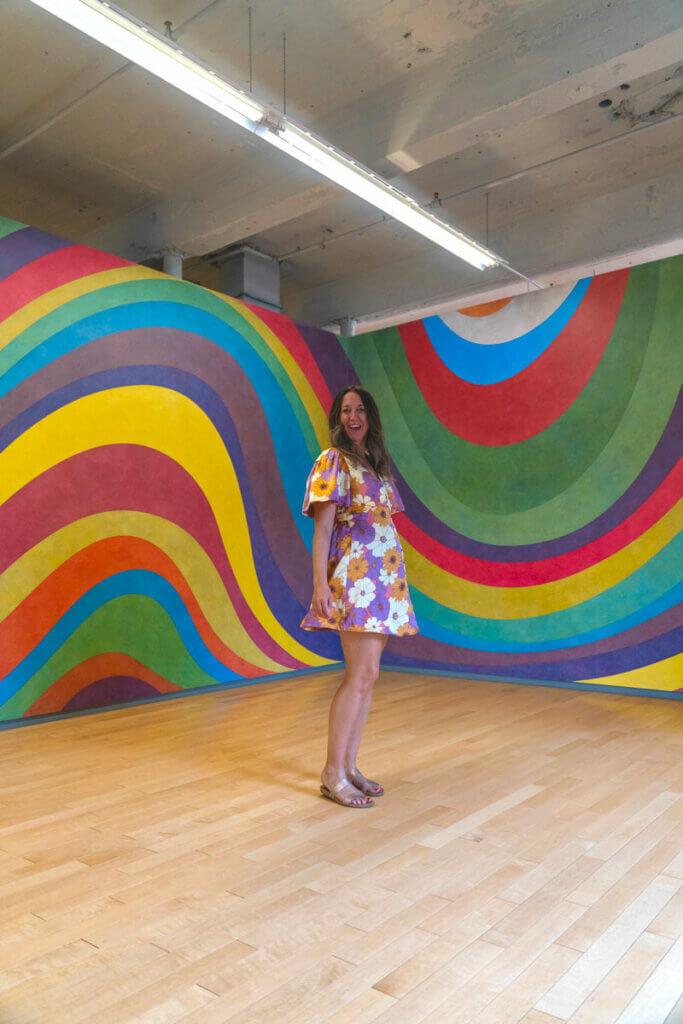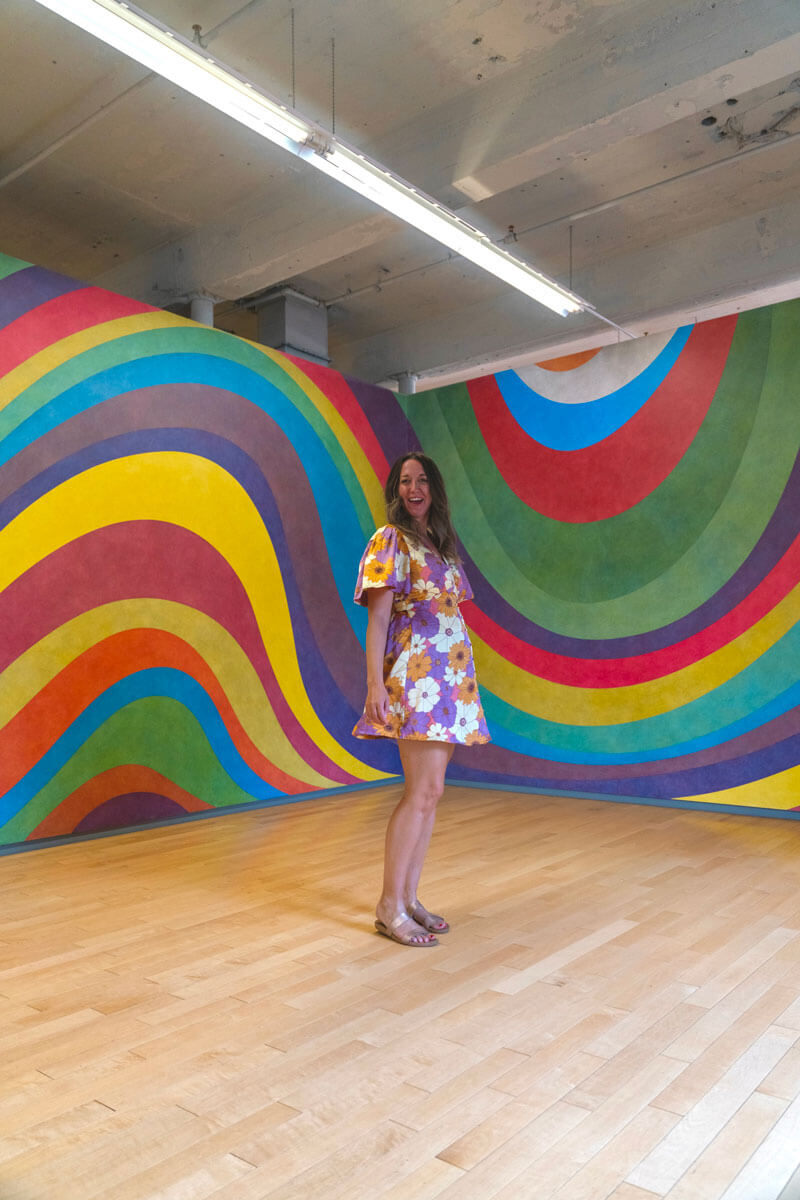 North Adams, Massachusetts is probably best known for being home to the Massachusetts Museum of Contemporary Art. And while it's located in a small town, it's actually one of the largest contemporary art museums in the United States!
I'm not going to lie, we were both looking forward to our visit to the museum and it's not that our expectations were low or anything, as we know the Berkshires are famous for arts and culture, but this museum BLEW our minds more than we thought and we spent half of a day here.
Not only do they have an impressive collection and gallery of installations from James Turrell (which you are unable to photograph), but they had so many fun exhibits during our visit like the rollercoaster from E.J. Hill and the immersive VR exhibits by multi-media artist Laurie Anderson to name a few that really stood out.
There was also an entire building dedicated to the large wall drawings and works of Sol LeWitt which was also another highlight!
MASS MoCA was brought to North Adams in the 1980s with the vision of revitalizing the former mill town. The museum has not only brought new life to the community but inspired a thriving art scene with it!
The museum itself is housed in a massive complex of 26 industrial buildings that sit between Marshall Street and the Hoosic River, it's seriously HUGE. The complex is on the list of the National Historic Register and features industrial architecture and wide-open spaces that are perfect for the impressive installations spotlighted here.
You can explore indoor and outdoor spaces at the MASS MoCA campus. They feature thought-provoking and often multi-sensory or even hands-on pieces.
A few of the exhibits require reservations, so be sure to plan ahead of your visit and book those online. During our visit, we were only able to get one reservation, but the staff told us when to go to special exhibits when they accept walk-ins on a first-come, first-serve basis and were able to see another.
If you get hungry, there are several eateries on campus, including a brewery and a coffee shop. You can also shop at the museum gift shop and an artist book publisher storefront. MASS MoCA is open every day except Tuesday from 10 AM to 6 PM.
Natural Bridge State Park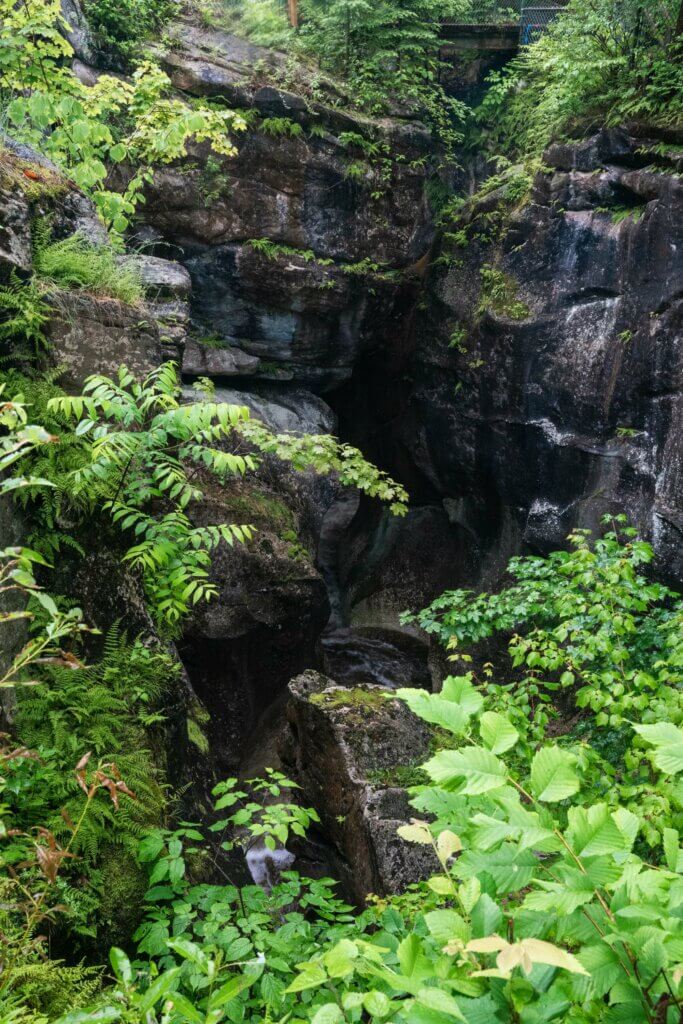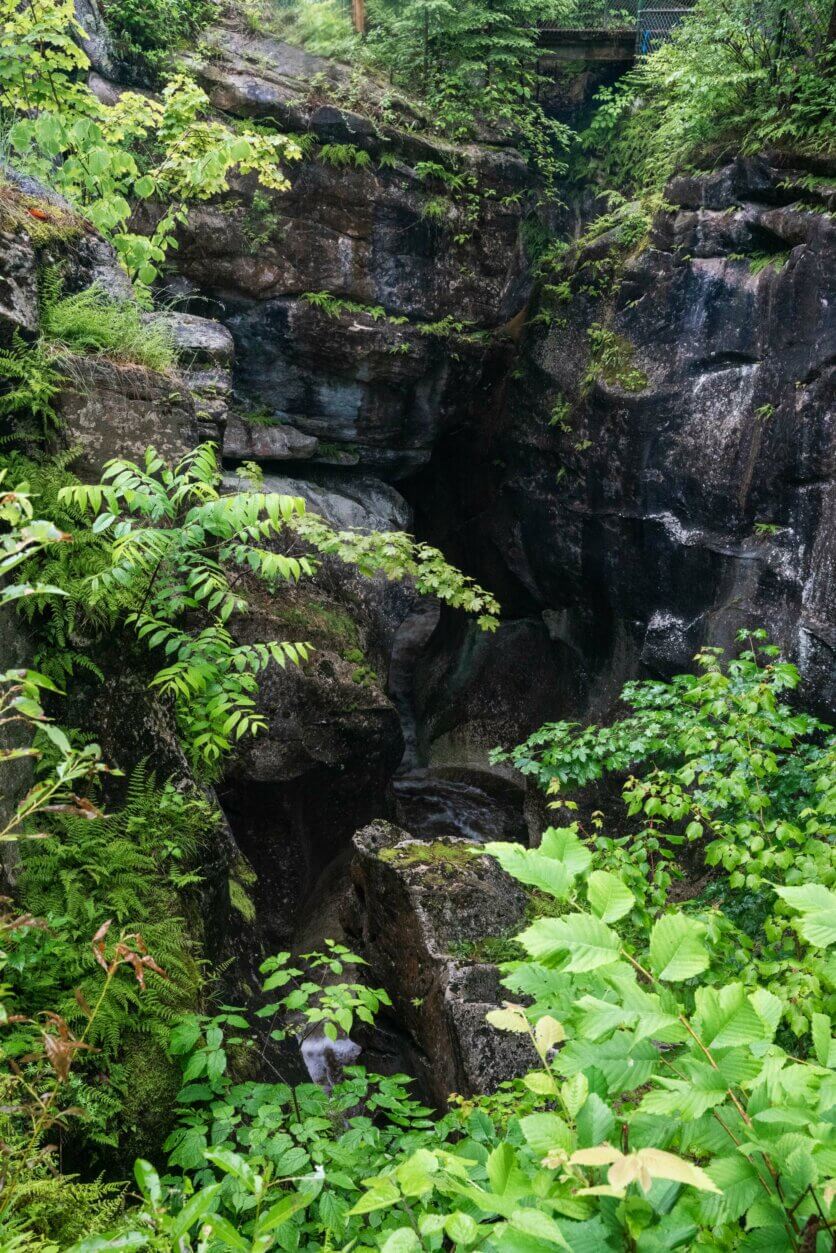 For outdoor lovers looking for things to do in North Adams, you'll want to check out Natural Bridge State Park. What makes this park unique is a remarkable rock formation that creates a natural bridge, completely out of rare white marble!
Natural Bridge State Park is a lovely, wooded park in the Berkshires that has a few hiking trails you can explore. You can follow a path across a wooden bridge and follow the Hoosic River through a marble gorge, but you must be able to climb stairs.
Sadly, this was under construction during our visit and we were unable to see everything, but we did get a glimpse of the gorge and the rushing water passing through it.
A large portion of Natural Bridge State Park is an abandoned marble quarry that you can explore. And at one end of the river is a manmade dam of white marble slabs, the only one of its kind in the US.
The park is located off MacAuley Road, at the northern end of town. You'll start at a visitors center where you can grab a map, learn about the park, and find out about ranger-led hikes.
Dogs are welcome, as long as they remain leashed. Natural Bridge State Park is open for visitors from 9:30 AM to 4:30 PM from the end of May through the end of October. Admission is free and there's a free parking lot.
Berkshire Art Museum
Not far from the MASS MoCA on Main Street in North Adams, Massachusetts, you can visit another top-notch art museum. The Berkshire Art Museum is housed inside a gorgeous former church and features permanent and rotating contemporary art exhibits.
A visit to the Berkshire Art Museum is a fascinating, immersive experience with art installations set up in the middle of raw spaces throughout the weathered, old church. You'll explore the chapel, basement, and churchyard, walking around and among interpretive art pieces.
Nearby, the Berkshire Art Museum has an annex in another converted chapel a short walk away at 82 Summer Street. Both spaces are open Wednesday through Sunday from noon to 5 PM, June through August. And September through October, it's open on Saturdays and Sundays. There's a small admission fee unless you're a North Adams resident.
Shop Along Main Street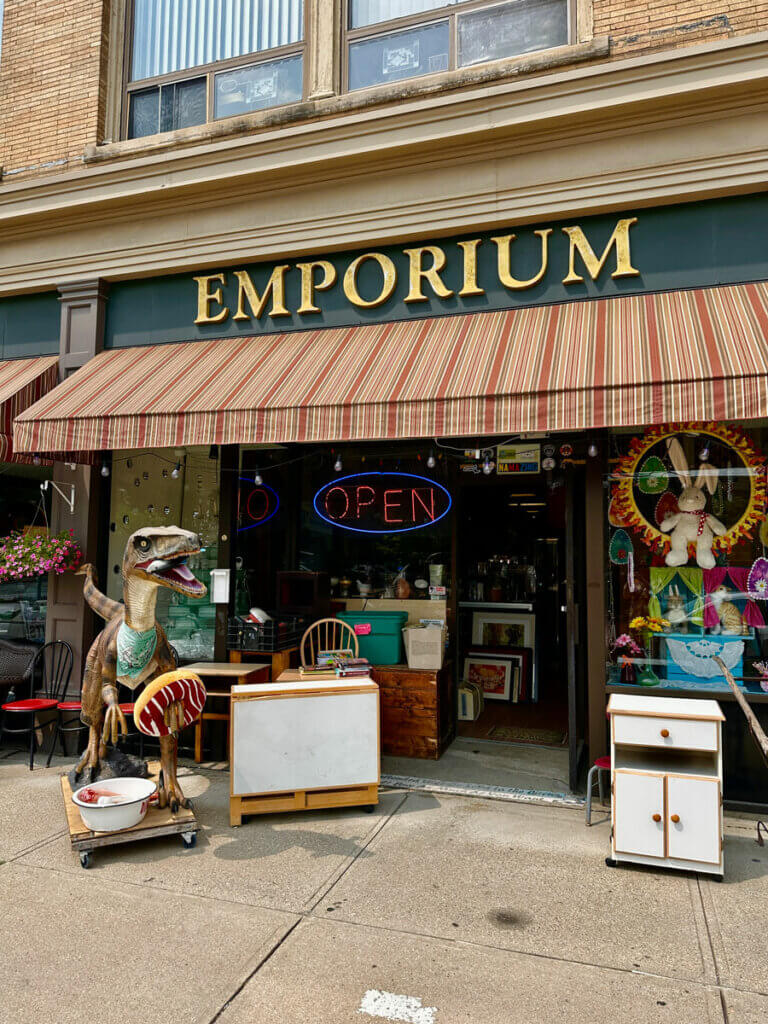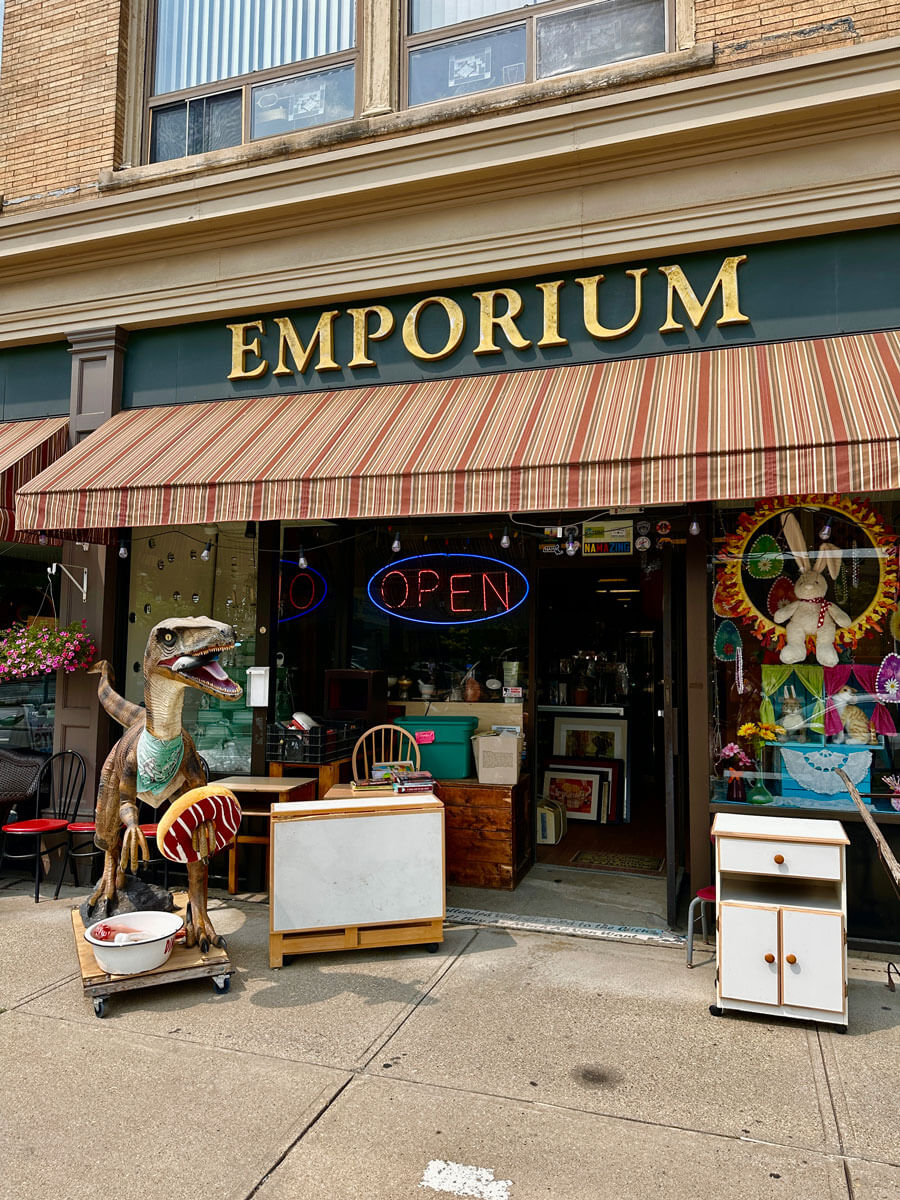 The town of North Adams is very walkable, especially Main Street! At one end is MASS MoCA and at the other is the Berkshire Art Museum. In between (basically between State Street and Eagle Street, you can enjoy a variety of shops!
Among beautiful brick storefronts that date back to the early 20th century, you'll find art galleries, vintage shops, and antique stores. And if you're looking for a bite to eat, there are cafes, bakeries, and all kinds of restaurants. Also, make sure to explore the side streets off Main Street!
One of our favorites that stopped in was Berkshire Emporium Antiques, just look for the dinosaur on the sidewalk and meander inside where you'll find floor-to-ceiling antiques and collectibles! They also sell a variety of local souvenirs too.
Mount Greylock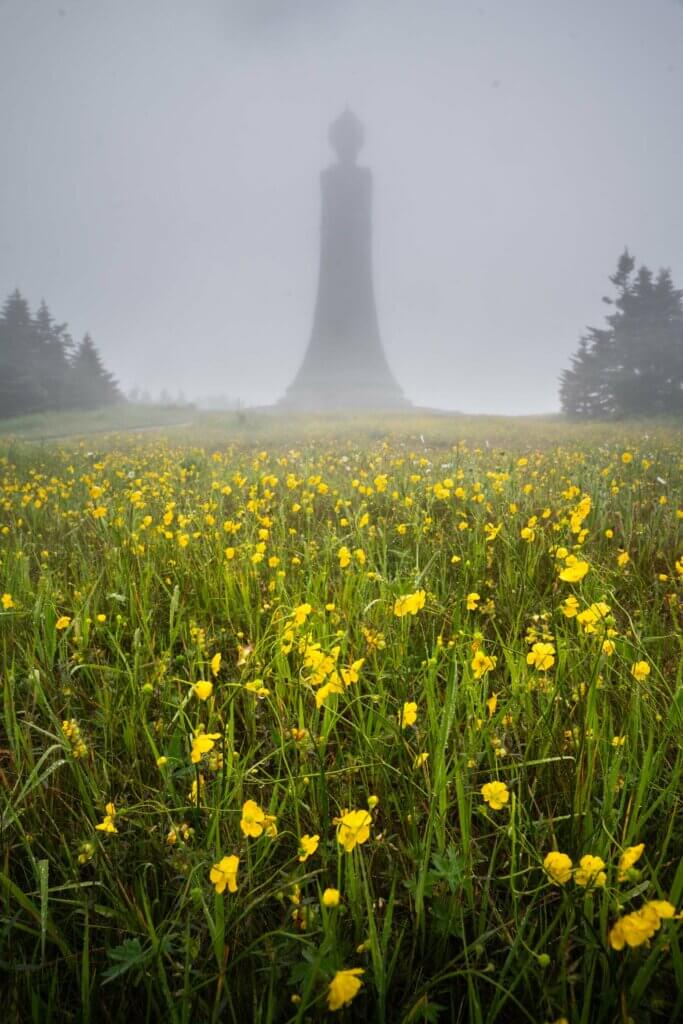 Visiting Mount Greylock State Reservation is one of the top things to do in North Adams. Just a few minutes south of town, you can explore beautiful Mount Greylock, the highest mountain peak in the state!
Mount Greylock and the surrounding area feature different hiking trails, some of which head to the summit. You can enjoy panoramic views of the surrounding Taconic Mountains.
The Moser Farm Loop Trail is an easy 2-mile trail through wooded areas and fields of wildflowers in the spring. In the winter, this is a popular trail for cross-country skiing and snowshoeing.
Or for a bit more of a challenge, the Mount Greylock Overlook Trail is a 2.5-mile loop that offers a beautiful walk to the summit. At the top, you can see the Veterans War Memorial Tower. This trail is best taken during the warmer months.
There are also things to see along the trails, like waterfalls and ruins of an old stone mansion! If you prefer a more relaxed experience, there's a road that leads to the summit as well where the Veterans War Memorial Tower is. It's typically open from July through October. It was rainy the day we went which made a very moody atmosphere!
Fun Fact about Mount Greylock: During our trip to Pittsfield, Massachusetts we went to Herman Melville's Arrowhead estate where he wrote Moby Dick from his study where he had a great view of Mount Greylock in the distance. He claimed the shape of Mount Greylock resembled a whale and was used as inspiration as he wrote his literary classic.
Take a Scenic Drive on the Mohawk Trail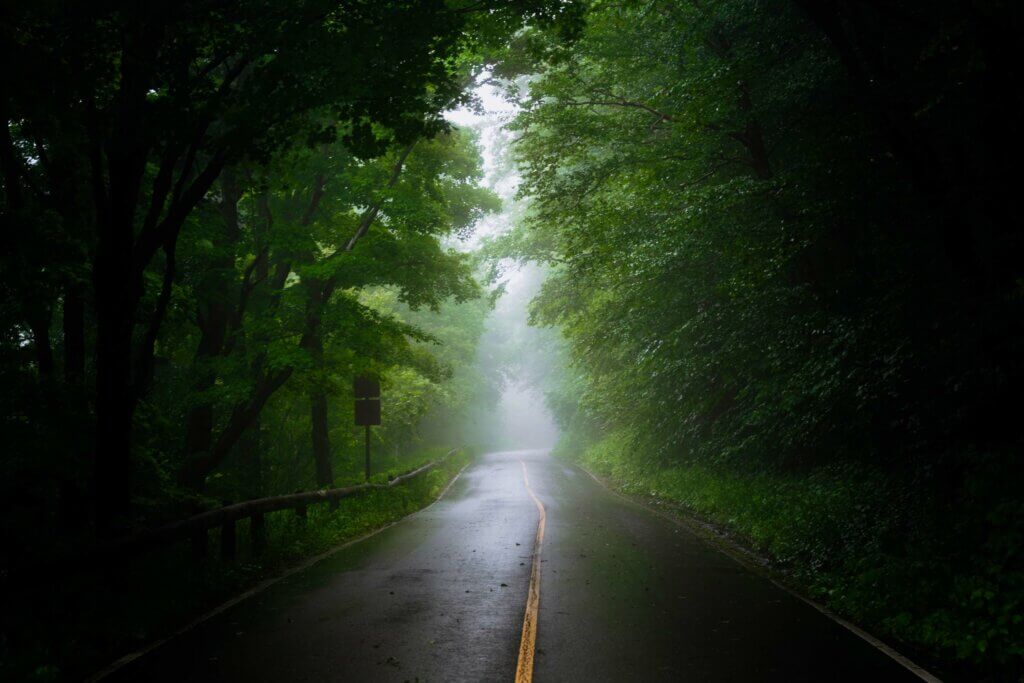 One of the most popular things to do in North Adams is to take a scenic drive along the famed Mohawk Trail. Originally part of a Native American trade route, the historic road evolved into a picturesque highway through the forests and mountains of northwestern Massachusetts.
The highway stretches over 60 miles, winding through verdant forests and charming towns. It's renowned for its colorful foliage in the fall, making it a prime destination for leaf peeping! And in the summer, you can take advantage of tubing and whitewater rafting companies along the Deerfield River.
As you take the winding twists of Mohawk Trail, keep an eye out for scenic overlooks, roadside antique shops, and attractions like the Golden Elk near the town of Florida! You can explore charming towns along the way, offering a variety of dining options, historical landmarks, and cultural attractions.
Hike Part of the Appalachian Trail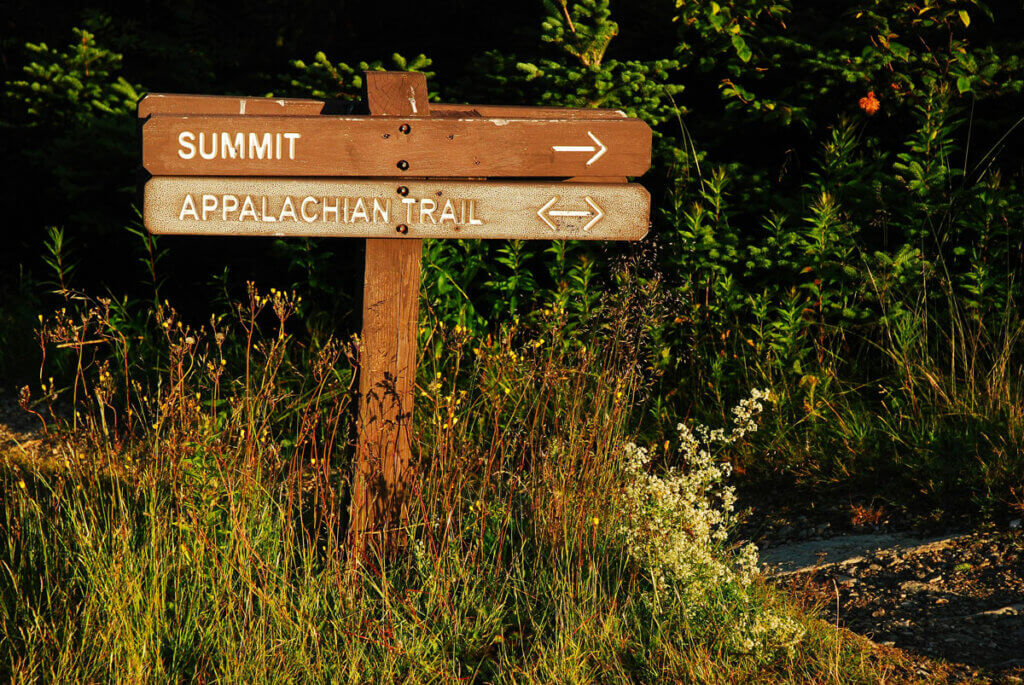 For many visiting North Adams, Massachusetts, this is your opportunity to hike a portion of the Appalachian Trail that runs through the Mount Greylock State Reservation! From end to end, this section of the trail is 12.5 miles long and passes over the summit of Mount Greylock (90 miles of the Appalachian Trail cuts through the Berkshires!).
You can access the trail at Phelps Avenue in North Adams, or at several trailheads and roads throughout the Mount Greylock State Reserve itself. It then continues south past the southern tip of the reserve at Outlook Avenue. Whether you're interested in a short hike or embarking on a longer adventure along the trail, you can find it here.
As the Appalachian Trail crosses through the reserve, you'll enjoy lush forests, rocky paths, and stunning views. The trail winds through both flat woodlands and more challenging terrain, connecting with a variety of other trails of varying skill levels.
A major highlight of this portion of the Appalachian Trail is, of course, the summit of Mount Greylock! Reaching the summit at almost 3,500 feet is a rewarding experience, with panoramic views of the surrounding valleys and mountains. 
Peck's Falls
If you love hunting down waterfalls as much as we do, Peck's Falls is an excellent one to visit! You'll find it south of North Adams inside Greylock Glen, along Gould Road. Parking at a curve in the road, you take the discrete trailhead a very short distance to Peck's Falls.
You'll actually see 2 waterfalls, one being an impressive 50-foot cascading waterfall and another upper two-tiered fall. All around are green trees, pretty moss, and smooth rocks. During the summer, the falls aren't especially impressive, but the pools below are a popular swimming hole for local kids. For the best show, come in the spring or fall!
It was a rainy day when we visited so we only made it to the first falls as it was a bit muddy!
Windsor Lake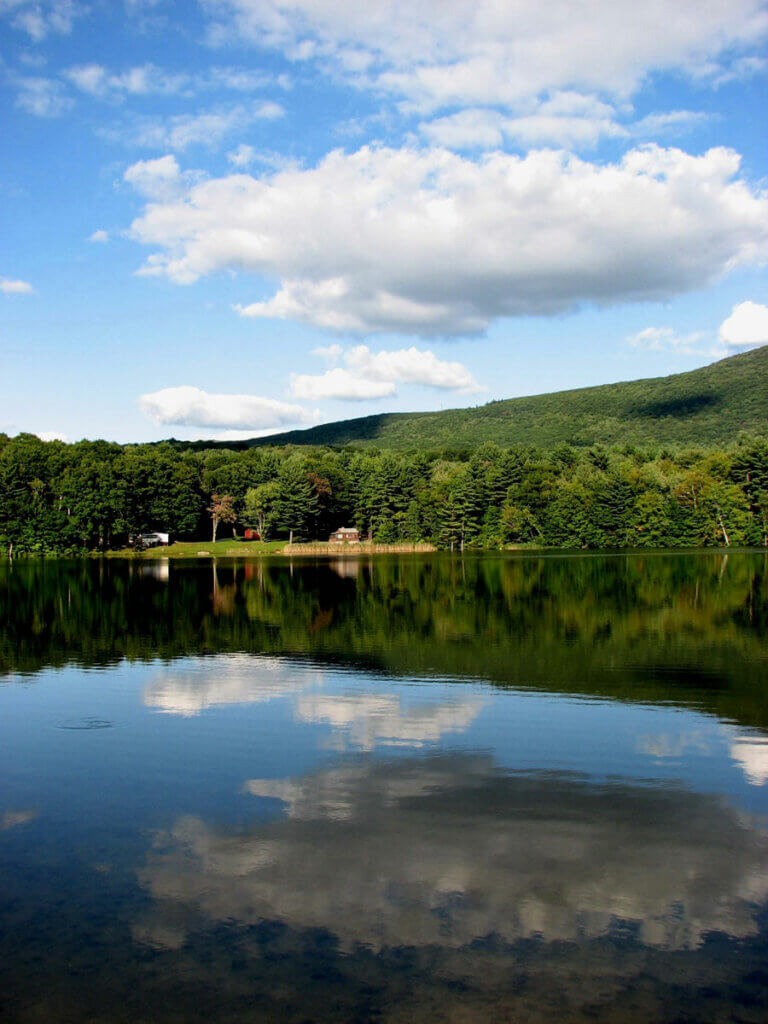 Windsor Lake Park is a great destination centering around Windsor Lake and offers a variety of things to do in North Adams throughout every season of the year. The lake itself is picture-perfect, with calm waters framed by maple, oak, and pine trees.
You can go fishing for a variety of fish like bass and trout. The tranquil setting makes it an ideal spot to unwind, read a book, or have a leisurely picnic by the water's edge.
During the warmer months, you can go kayaking, canoeing, or paddle boating on Windsor Lake. The park features a sandy beach area that's popular with both locals and visitors to North Adams.
During the summer, Windsor Lake Park hosts a free summer concert series every Wednesday at 6:30 PM from June through the beginning of September. Throughout the year, Windsor Lake is a popular spot for hiking (if you walk the entire lake, it's 2.25 miles). There are also picnic tables and pavilions, playgrounds, and campgrounds. In the winter, this is a great site for snowshoeing and cross-country skiing.
Hike with Berkshire Camino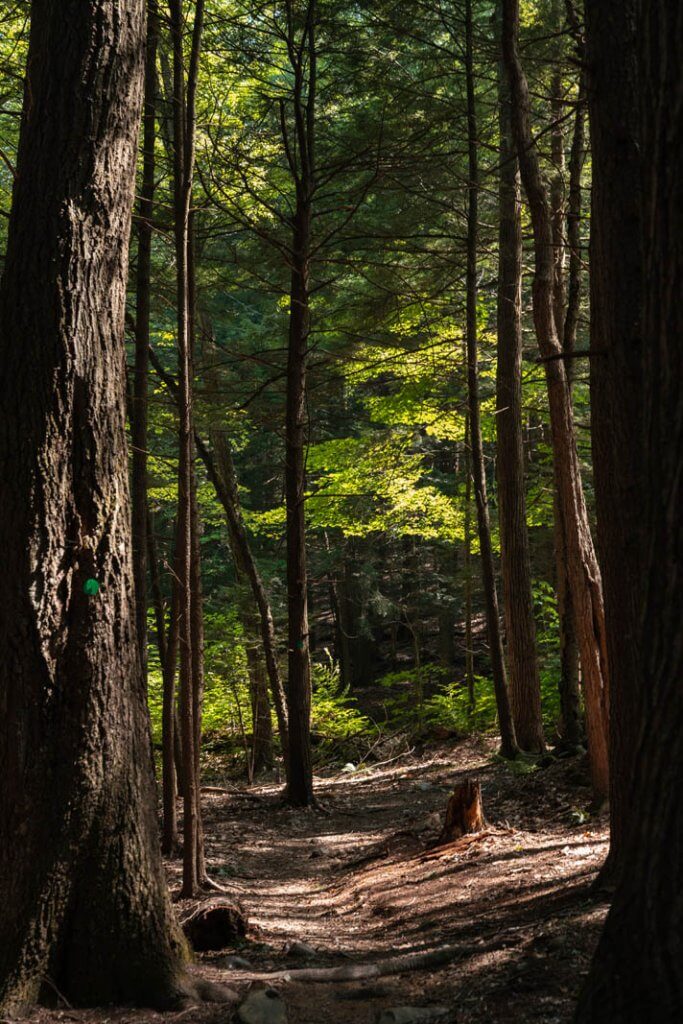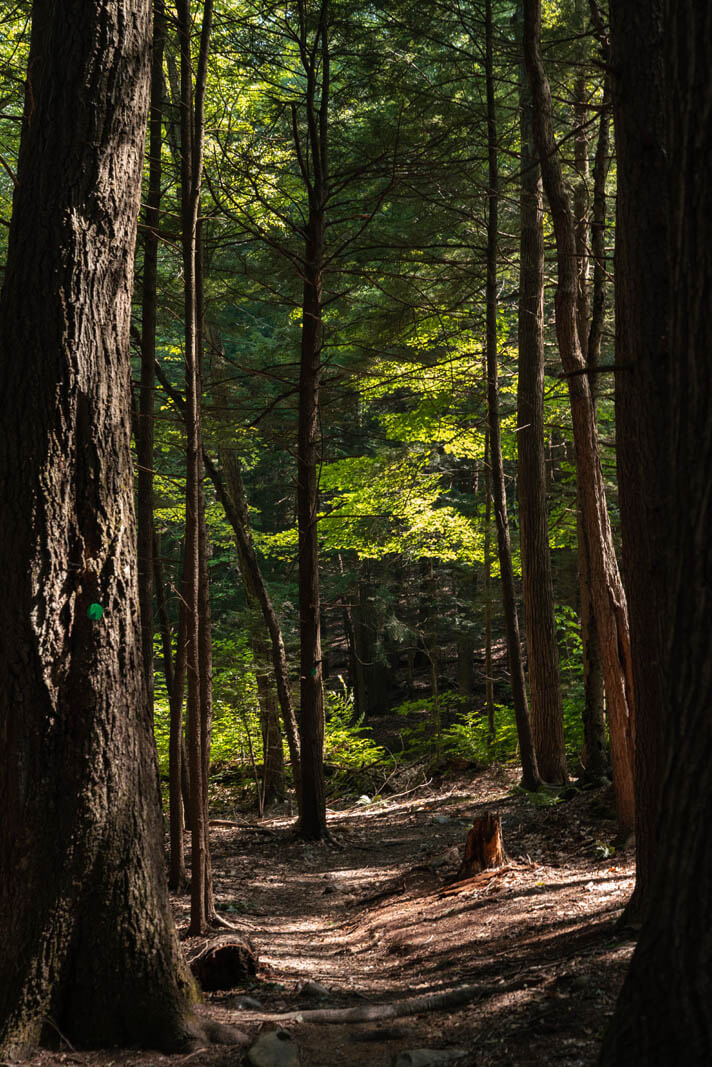 We've had the pleasure of joining Berkshire Camino for day hikes during visits to the region. Mindy Miraglia, the founder of Berkshire Camino, was inspired by the famous Camino de Santiago in Spain. She started the touring company to create empowering experiences outdoors.
Berkshire Camino offers a wide range of day hikes and multi-day hikes, both private and for small groups. These journeys are a chance to disconnect from the hustle of daily life, engage with your fellow hikers, and be present on the trail. And it's always a treat to have passionate and skilled local guides leading the way who will show you the best of the Berkshires!
While the company's headquarters is in Pittsfield, you'll find tours offered throughout the region, including in North Adams, Massachusetts. You can book the 2-mile North Adams Walkabout. It's a great way to see North Adams and get a feel for the art scene here. Or take a 6-hour day hike to the summit of Mount Greylock.
You can also work with Berkshire Camino to plan one of their highly sought-after multi-day hikes. Plan a town-to-town or woodland hike that lasts 3-5 days with an experienced and certified hiking guide.
Bright Ideas Brewery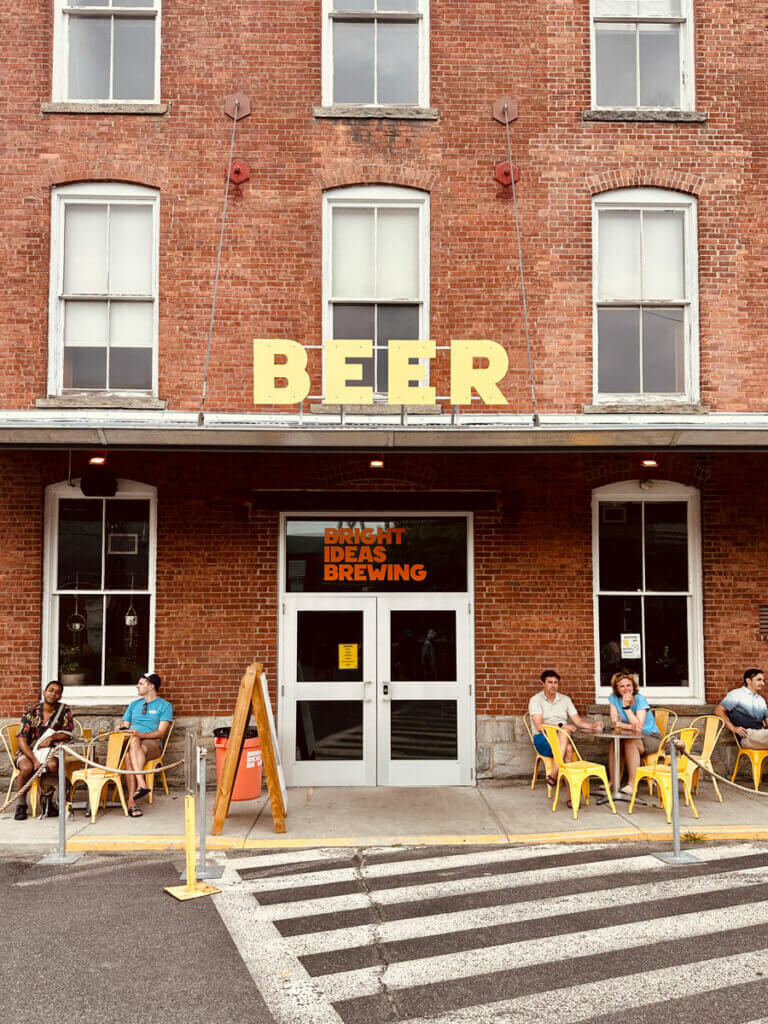 If you've been around Massachusetts, you might have seen Bright Ideas' sunny yellow cans in a store or enjoyed one of their brews at any number of bars in the Berkshires. But while you're at MASS MoCA, add visiting the headquarters of Bright Ideas Brewery to the list of necessary things to do in North Adams!
The creative brewery makes its home on the MASS MoCA campus, right next to Marshall Street. Inside, you can enjoy a pint in a sun-filled renovated millhouse. Sample ales, stouts, IPAs, or one of their non-alcoholic beers. Their fruity sours are popular but they also master classic beers as well!
While the brewery doesn't sell food, they allow you to bring in food. You can just grab tacos or BBQ from one of the restaurants located on the grounds as well! There's also plenty of parking directly outside of the brewery. They open every day but Tuesday at 11 AM with extended hours on the weekends.
Ride the Berkshire Scenic Rail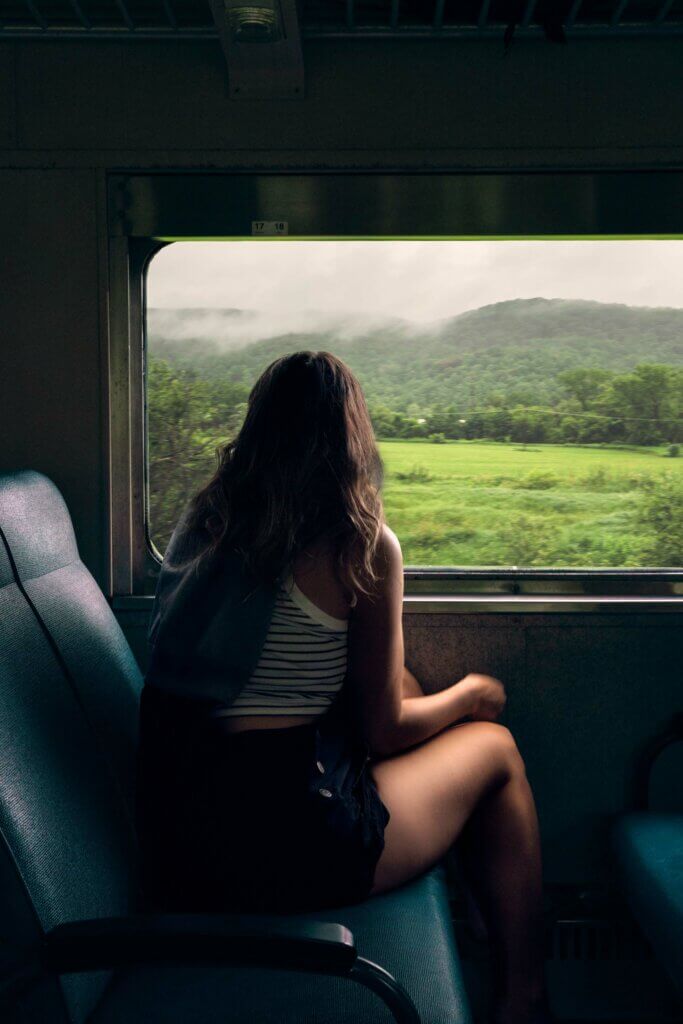 One of the most unique and memorable things to do in North Adams, Massachusetts is riding a vintage train along the Berkshire Scenic Rail! The Hoosac Valley Train Rides in Adams are operated by the Berkshire Scenic Railway. Just a 10-minute drive from North Adams, you can enjoy a fun train ride through the Hoosac Valley.
The trains run in the summer and fall. Depending on the season, the train rides offer special themes, such as fall foliage tours, holiday-themed rides, and dinner rides with live music! You'll start in Adams and ride for 1 hour alongside the Ashuwillticook Rail Trail to the station in North Adams. Aboard vintage railroad cars pulled by a historic locomotive, you can enjoy a scenic ride through the lush countryside,
The fall foliage rides along the Berkshire Scenic Rail are the most popular and book fast! Plus, the train only runs in the afternoons on Saturdays and Sundays (and some Mondays when it's a holiday). You can make reservations online in advance and pick them up, or just buy them at the station in Adams. If you get them there, you need to make sure you have your ticket in hand 30 minutes before your scheduled ride.
Hike Cascade Trail
Off of Mohawk Trail on the eastern side of North Adams, there's an excellent and rewarding hiking trail to a beautiful waterfall. The Cascade Trail is an easy 2-mile out-and-back trail that takes on average a total of 60- to 90-minutes. You'll come to a 40-foot cascading fall, appropriately named Cascade Falls! 
It's a pretty trail that's flat and easy to navigate, but when you get close to the falls, you'll have to make a choice If you're an experienced hiker, you can take the direct route and scramble over rocks to the falls. Or you can circle around the rocks to the base of Cascade Falls. Here, you can enjoy a cool swim in the pool at the bottom of the waterfall that feeds into Notch Brook!
The trailhead starts at Marion Avenue but you're encouraged to park a block or more away so there's no parking congestion (it's a popular hike on the weekends). Just be mindful of where you park in this residential area and enjoy a lovely hike!
Susan B. Anthony Birthplace Museum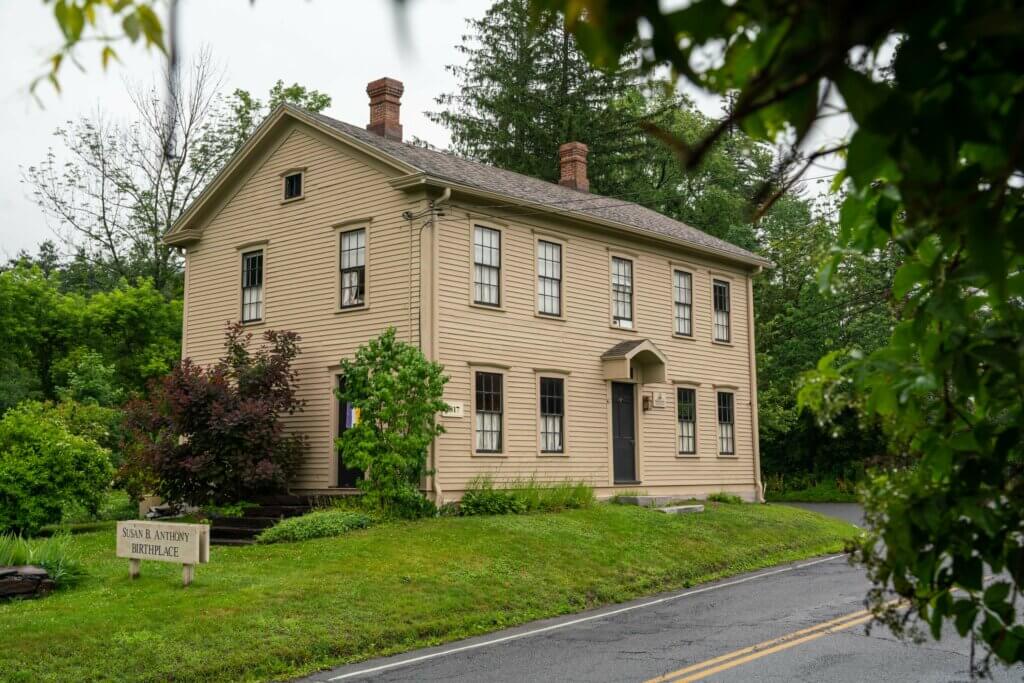 History lovers interested in sites to visit near North Adams, Massachusetts should plan a stop at the Susan B. Anthony Birthplace Museum in the town of Adams. This museum is situated in the home of the women's rights advocate, Susan B. Anthony. It's where she was born and grew up.
During your visit, you'll walk through the first floor of the home. Each room has been restored to look like it did in the early 1800s when Anthony was a child. You'll learn about her early life, upbringing, and the environment that played a role in shaping her views and activism.
The museum also features exhibits and artifacts that highlight Anthony's dedication to women's rights, her advocacy for social justice, and her efforts to secure voting rights for women. The museum not only honors Susan B. Anthony's achievements but also serves as a reminder of the ongoing struggle for gender equity and social justice.
You're welcome to explore the museum at your own pace. You can visit Thursday through Monday from 10 AM to 4 PM. Guided tours are offered every 90 minutes throughout the day and offer even more insight into the exhibits and Anthony's work. There's a small admission fee for everyone 6 years and older.
Ashuwillticook Rail Trail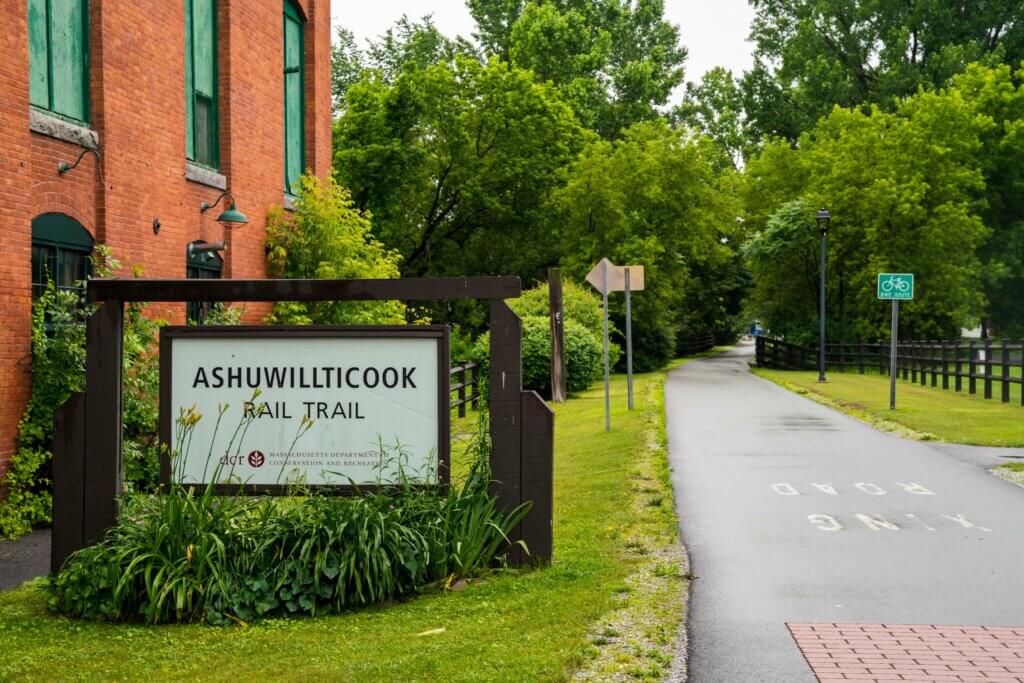 Outdoorsy types and history lovers looking for things to do in North Adams should consider a hike along the Ashuwillticook Rail Trail. This historic trail follows the path of a former railroad track, winding through the beautiful forests and hills of the Berkshires.
It's a relatively flat and paved path that's excellent for walking, jogging, or cycling. This also makes it accessible for wheelchair users and strollers.
The Ashuwillticook Rail Trail covers over 12 miles between Pittsfield and Adams. It runs parallel to the Ashuwillticook Reservoir and the Berkshire Scenic Rail. Along the way, there are picnic tables, restrooms, and even a visitors center you can visit. You can stop and enjoy the scenery, take in the surrounding countryside, and even spot local wildlife.
The rail trail is a year-round attraction, with each season offering something unique for visitors to enjoy! In the spring and summer, there's lush greenery and blooming wildflowers. Autumn transforms the trail into a colorful landscape as the leaves change. And in the winter, the transforms into a snowy wonderland where you can go cross-country skiing.
Hoosac Tunnel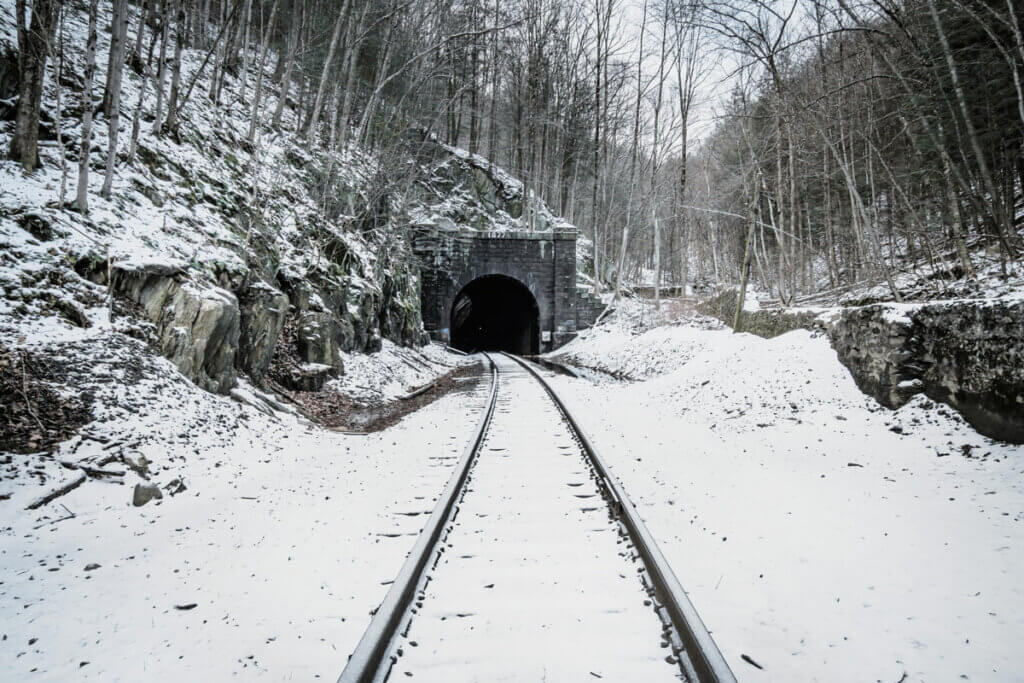 The Hoosac Tunnel in North Adams, Massachusetts, holds a reputation due to its bloody past, giving rise to many stories of hauntings and unexplained phenomena. This historic tunnel, which spans nearly 5 miles under Hoosac Mountain, is said to be one of the most haunted places in New England!
There are two portals that you can visit: The East Portal off of River Road in the town of Florida, and the West Portal in North Adams. East Portal is safer to access and features historic buildings, as well as a memorial to the men who lost their lives there. The West Portal is at the end of an unnamed road from Church Street about 200 feet to the tunnel entrance in the woods!
The Hoosac Tunnel gained its eerie reputation mainly because of the many lives lost during the tunnel's construction which spanned 24 years in the mid-19th century. Numerous workers died due to accidents, explosions, and harsh conditions. Over the years, countless people have reported hearing eerie sounds, seeing ghostly figures, and experiencing strange sensations while inside the tunnel.
Visiting the Hoosac Tunnel is an opportunity to explore a piece of history surrounded by mystery. However, we need to note that the tunnel itself is an active railway corridor, and trespassing is strictly prohibited. Stay off the tracks!
Explore Church Street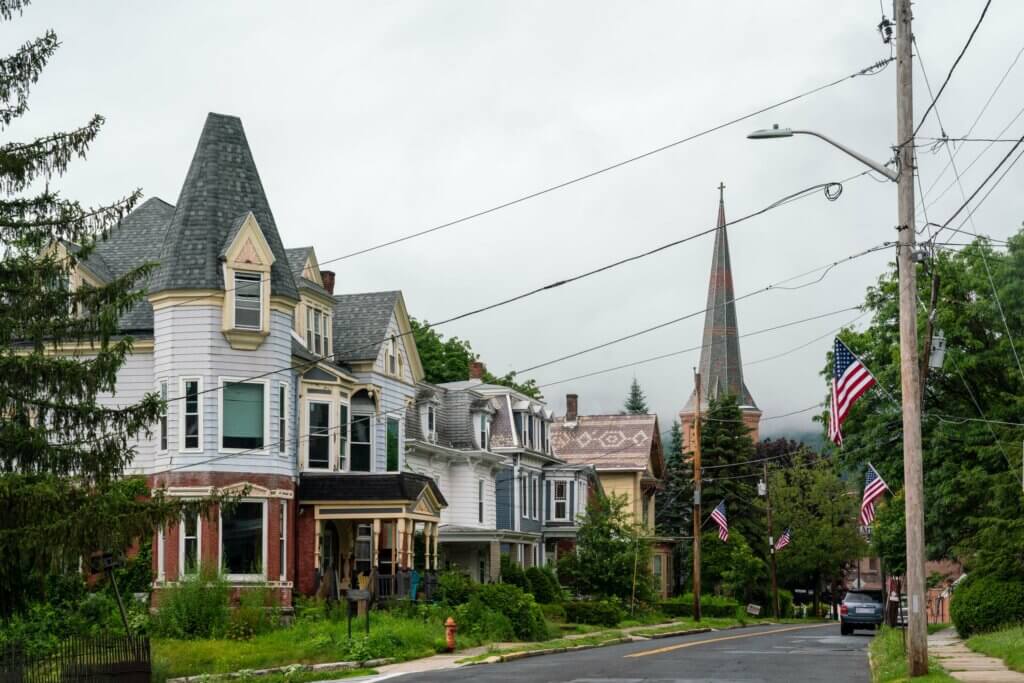 A short walk south of Main Street, one of the best things to do in North Adams is exploring beautiful Church Street. Go for a walk through the streets of the Cady Hill Historical District, taking in the unique architectural details of homes from the 19th and early 20th centuries.
If you're curious about the supernatural, Church Street offers a starting point for more haunted adventures in North Adams.
The haunted tales of the Houghton Mansion have made it a popular site with ghost hunter shows! The mansion is empty and now in pretty rough shape, but it carries history in North Adams and is connected to intriguing legends. It was even used as a Masonic lodge at one point and you can look at it from the street.
Western Gateway Heritage Park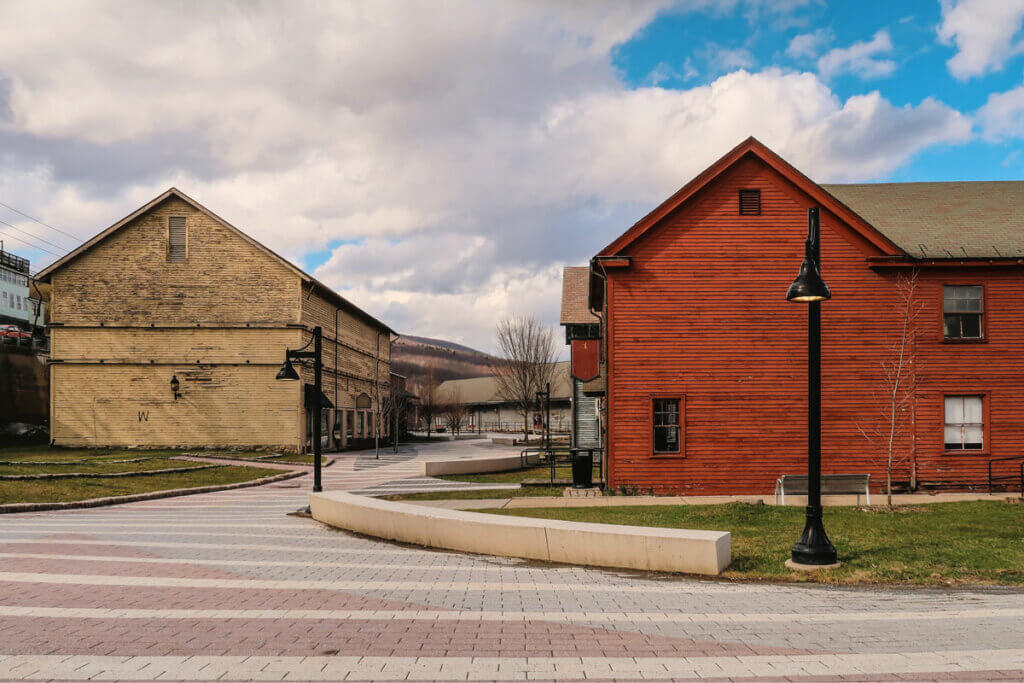 The Western Gateway Heritage Park in North Adams, Massachusetts, is a tribute to the town's fascinating history in the railroad industry. The park feels like a journey back in time, showcasing beautifully preserved buildings in a former railway yard.
The main feature of the park is the Heritage State Park Visitor Center. It serves as a starting point for exploring the rest of the buildings. Interactive exhibits featuring historic artifacts explore North Adams' railway history, industrial past, and the impact of the Hoosac Tunnel. You'll also learn about the region's forest, the history of the Mohawk Trail, and more. 
For train lovers of all ages, there's an authentic historic steam locomotive and a caboose you can explore. And the heritage park also hosts the Freight Yard Pub, which you can visit for a meal any day from 11 AM to 9 PM or till 10 PM on the weekends. 
Spend a Day in Williamstown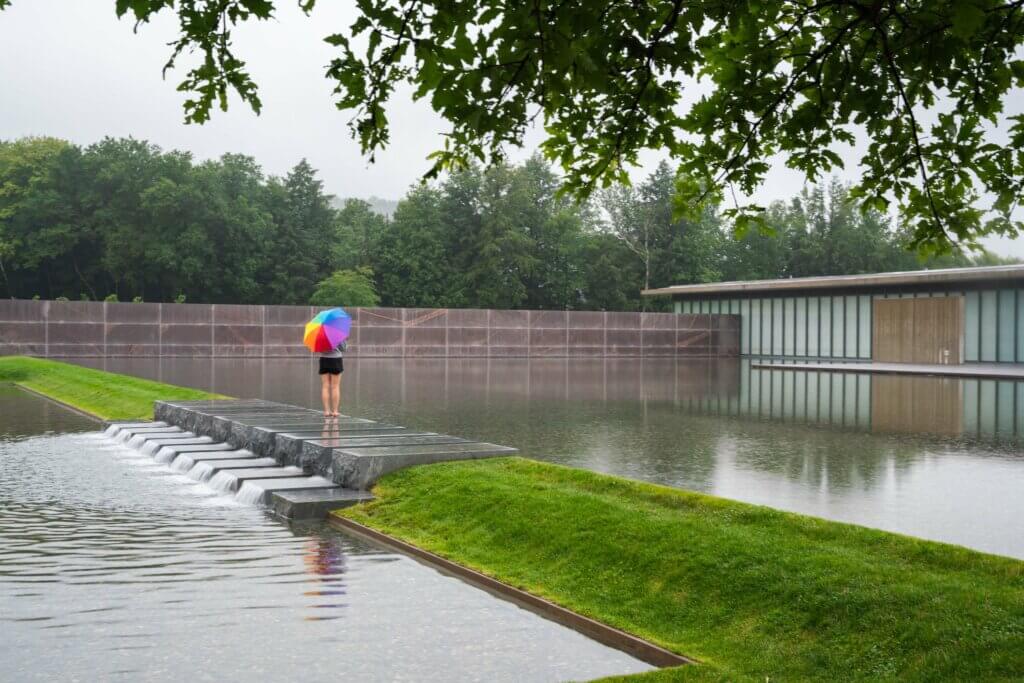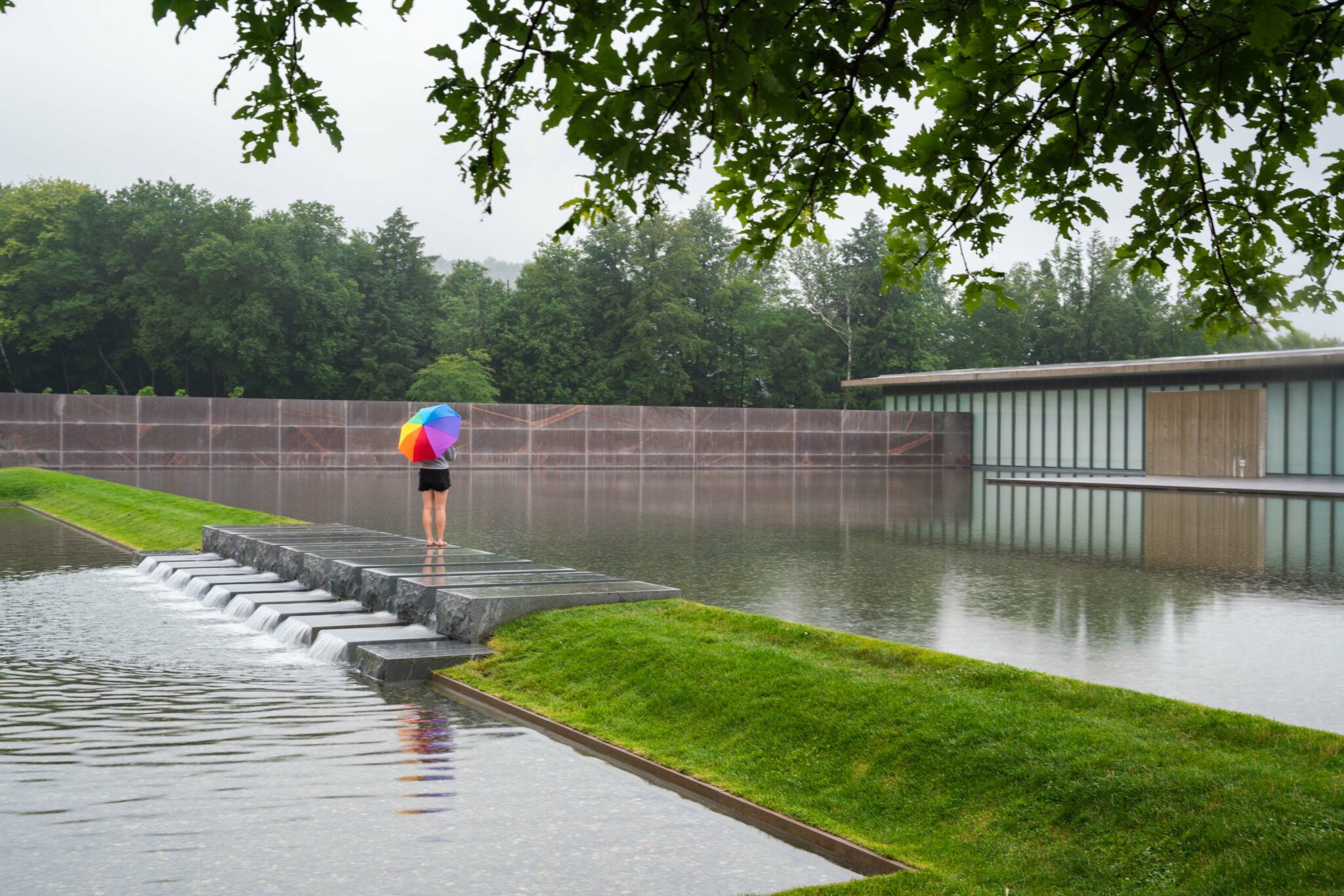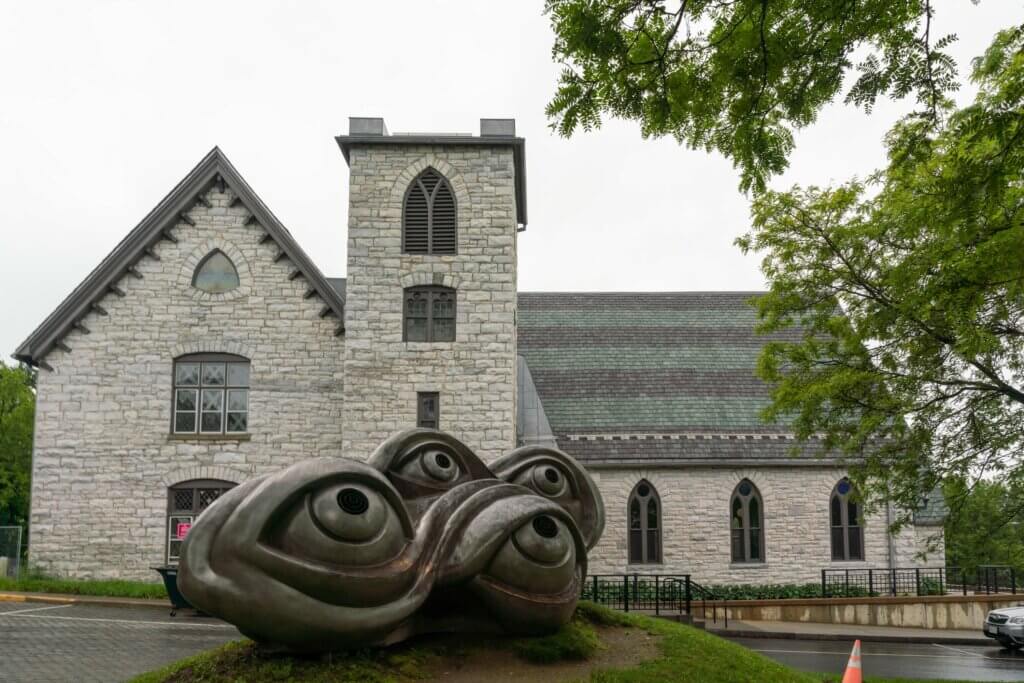 Another one of the best towns in the Berkshires to visit is the town just west of North Adams, Williamstown. This is another town with an impressive arts culture, much of it centering around Williams College.
A notable stop on campus is the Clark Art Institute, where you can see world-class artwork from the 19th century. Continue to the Williams College Museum of Art, which is known for its amazing American modern art collection.
While you're here, take time to wander along Spring Street, which functions as Williamstown's downtown commercial district. This tiny college town boasts darling vintage shops, game stores, cute cafes, and dining options with creative names!
And if you're here in the summer, don't miss the chance to catch a performance at the renowned Williamstown Theatre Festival. This Tony-award-winning theater production features Broadway-worthy shows starring local talent and some names you might recognize.
Visit Nearby Towns
With all the entertaining things to do in North Adams, you can easily spend a full day here! But if you have the time and are curious about other towns in the Berkshire region or in Southern Vermont, you're in luck.
Just a short, scenic drive away are more towns that offer their own unique blends of history, culture, and natural beauty!
Wilmington, nestled in Southern Vermont, is a must-see. This picturesque New England town is known for its quaint village charm and another excellent art scene.
Or back in the Berkshires, Pittsfield, Massachusetts boasts gems like the Berkshire Museum and Barrington Stage Company.
Lenox is famous for Tanglewood, a renowned music venue, as well as the historic Edith Wharton's estate, The Mount.
And Stockbridge is another treasure. This town is home to the Norman Rockwell Museum and outdoor spaces like the Berkshire Botanical Garden.
Where to Stay in North Adams, MA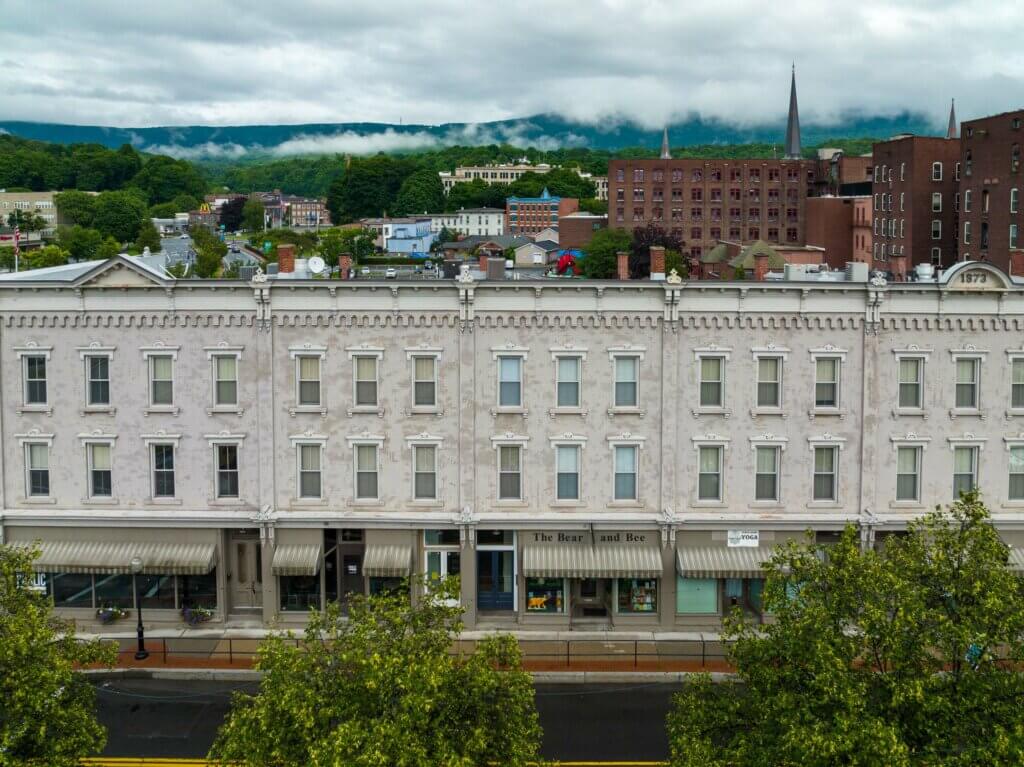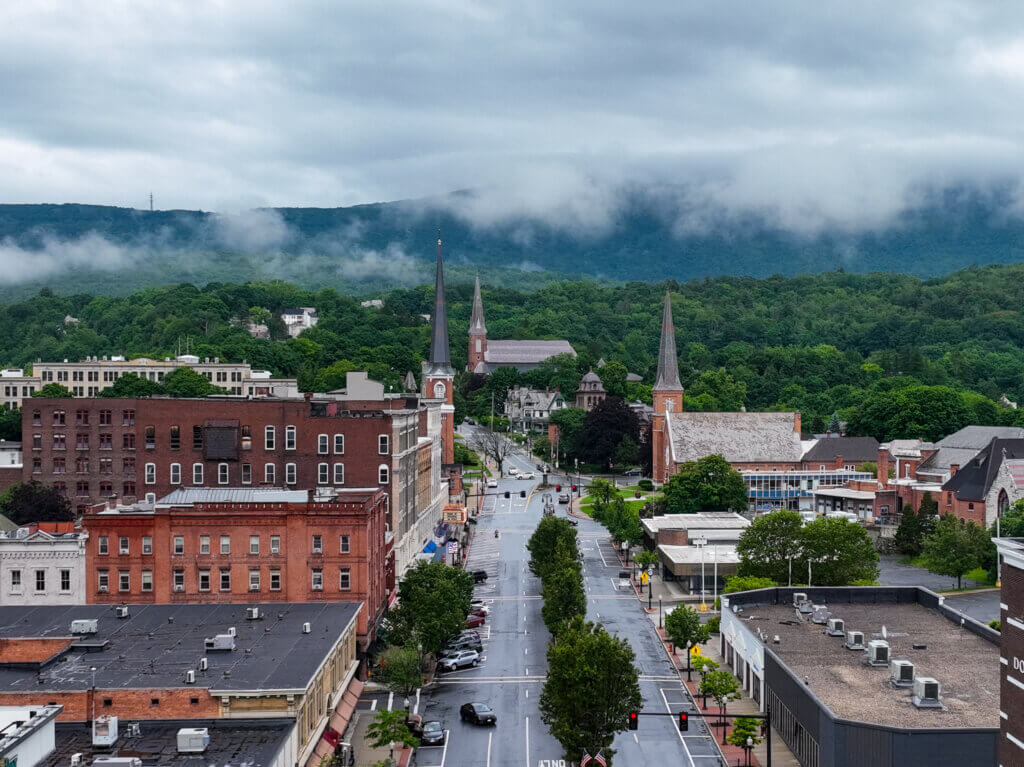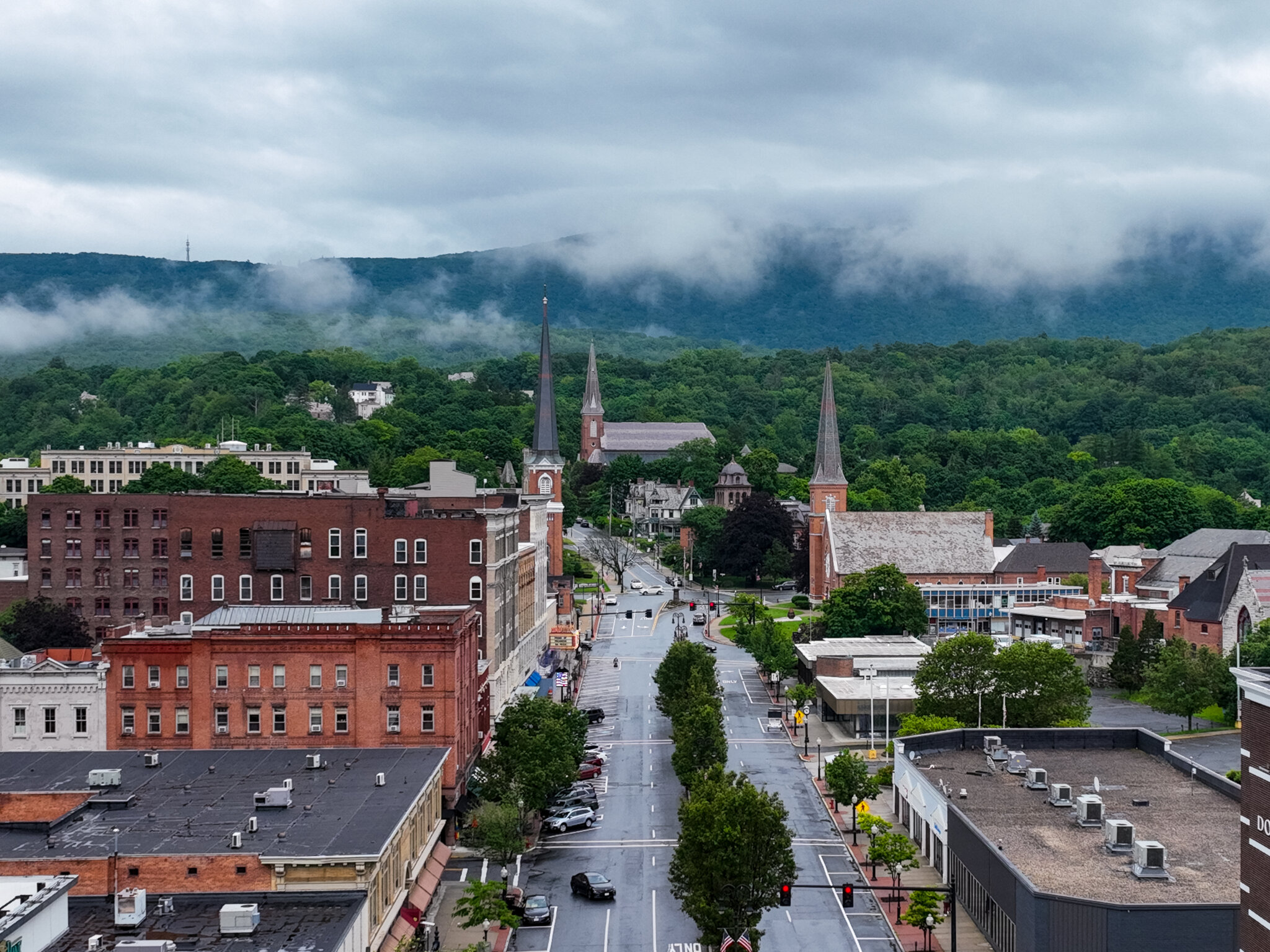 You're in luck, as there's a really great hotel (the only hotel on Main Street) located in town and is perfect for exploring all the best things to do in North Adams from at Hotel Downstreet. You're only steps away from some of the best things to do in the Berkshires like MASS MoCA. 
The location is great and they offer spacious rooms with an art focus. Since you're in such a culturally rich region of the United States, it's only fitting that there are also galleries located on the first floor of the hotel too. There's also an indoor pool and hot tub on the lower level, which has a fun mural painted down there.
We stayed here on our second visit to the Berkshires and really enjoyed the location as we were such a short distance away from so many cultural institutions and Berkshires attractions. Book Hotel Downstreet here.
---
What is North Adams known for?
North Adams, Massachusetts, is best known for the Massachusetts Museum of Contemporary Art (MASS MoCA), its vibrant arts scene, and its picturesque location in the Berkshire Mountains.
How long do you need for North Adams?
A weekend to 3-day visit to North Adams is typically sufficient to explore its main attractions, including MASS MoCA and outdoor activities in the Berkshire Mountains.
When is the best time to visit the Berkshires?
The best time to visit the Berkshires is during the fall, from late September to mid-October, when the region's stunning foliage is at its peak. This time offers crisp weather and vibrant autumn colors. The summer is also one of the best times to visit the Berkshires as that's when the summer arts and culture festivals and performances take place.
Best Things to do in North Adams, MA (Post Summary):
MASS MoCA
Natural Bridge State Park
Berkshire Art Museum
Shop Along Main Street
Mount Greylock
Take a Scenic Drive on the Mohawk Trail
Hike Part of the Appalachian Trail
Peck's Falls
Windsor Lake
Hike with Berkshire Camino
Bright Ideas Brewery
Ride the Berkshire Scenic Rail
Hike Cascade Trail
Susan B. Anthony Birthplace Museum
Ashuwillticook Rail Trail
Hoosac Tunnel
Explore Church Street
Western Gateway Heritage Park
Spend a Day in Williamstown
Visit Nearby Towns
---
Enjoyed this guide for what to do in North Adams, Massachusetts? Bookmark for later or share the love below on Pinterest!